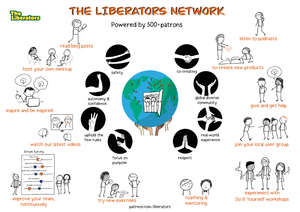 The poster offers an overview of the activities taking place within our community - The Liberators Network, and the principles we value. Our community is powered by patrons, these are people that believe in our mission and support us with a small monthly financial donation.
How does this help your team?
The Liberators Network exists to help you, and your team, overcome the many hard challenges of unleashing teams with Scrum and Liberating Structures. Our hope is that you find creative support, that you enjoy the satisfaction of helping others, and that you feel part of a larger movement to liberate teams all over the world.
Although this sounds great, we can imagine you wonder what this actually means. So, we created a poster that captures the essence of our community in one overview. We also wrote a blog post, to describe the activities in more detail, the content you can expect, and we highlighted some of the key experiences, findings, and achievements.
Sounds interesting? Sign up as a patron, and let's learn and grow, together! 
What do you receive?
A large PDF with a poster, ready for printing and sharing;
More inspiration