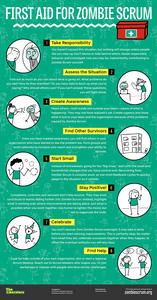 Zombie Scrum is on the rise! What may look like Scrum from a distance often turns out to be anything but when you take a closer look. Although teams go through the motions of Scrum, Sprints don't result in valuable outcomes, customers are not involved, teams have little autonomy and nobody is doing anything to improve.
How does this help your team?
The first response to Zombie Scrum might be to panic, run around, and hide below your desk. That doesn't usually work. So for our book the Zombie Scrum Survival Guide, we created a simple poster that tells you exactly what to do, in clear and simple language.
Decorate your team room, training space, or bedroom (we certainly did) with this poster. It tells you exactly what you need to do when you are confronted with Zombie Scrum. 
What do you receive?
A full-color PDF that you can print or distribute within your organization
More inspiration
Join our Patreon community! 
Like our free content? Join our
Patreon community
! Patrons are people who feel that our mission, and our work, are valuable enough to justify a monthly contribution. Their support gives us the opportunity to create more material for free. So it's a win-win!