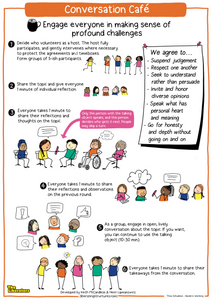 Whenever we use Liberating Structures in teams, organizations, or a public community, we also use a wide variety of supporting material. For example, illustrations and posters. An illustration can be a powerful instrument to help people learn. In the past years, we created many of them together with Thea Schukken. This illustration is a nice example.
How does this help your team?
How often do you take the time to really listen to others in your group or team? Do group conversations often make you nervous because you're constantly looking for a moment to interject something?
The Liberating Structure "Conversation Café" is designed to encourage people to listen and understand each other's perspectives on a profound, shared challenge instead. Instead of trying to convince others or reach a shared decision, "Conversation Café" creates safety for everyone to share their perspective.
If you're interested in creating psychological safety in your team, "Conversation Café" is one of the first things we'd recommend. We created this poster to outline the steps and the work agreements.
What do you receive?
A high-resolution poster ready for printing and sharing.  
Good combinations
For more inspiration...
Join our Patreon community! 
Like our free content? Join our
Patreon community
! Patrons are people who feel that our mission, and our work, are valuable enough to justify a monthly contribution. Their support gives us the opportunity to create more material for free. So it's a win-win!